Bob Baffert has long been an iconic horse trainer in the United States. With a shock of white hair offsetting a deep Californian tan he has long appeared more Hollywood than horse racing. And his easy smile and casual manner mask an unquenchable hunger for success, even having climbed to the top of the sport's peak time and time again.
It was this smile that was again in residence as Baffert enjoyed yet another maiden win in California last weekend. The colt in question was making his debut at Del Mar and won by a narrow margin having sustained a long sprint to the line in the 1200m contest. The colt is called American Anthem. Just another young horse in a powerful stable in the eyes of many. Something more in the eyes of the US Hall of Fame trainer if his post-race comments are anything to go by.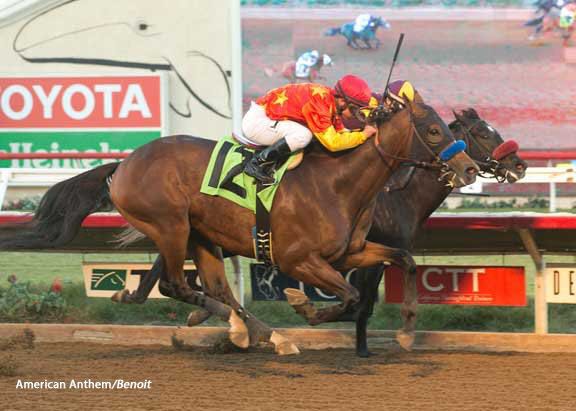 "We've been excited about [American Anthem] since we got him, and he ran to his works," Baffert told the TDN post-race.
"He was showing us that he was very talented. He's changed a lot, he's a big, beautiful horse. I was afraid that it was going to be a little bit too short for him. He just looks like a giant version of [his sire Bodemeister].
"He's not a sprinter, he's going to get better as he goes longer, when he goes two turns. I think he's one of my top ones."
Like a diviner drawing water from dry land, Baffert has built a reputation for unearthing ability from racehorses time and time again. The son of an Arizona rancher has been doing it for almost 40 years having won the Quarter Horse World Championships before switching to thoroughbred racing in the early 1990s and roaring through major race success with an audacity that Americans just love.
But it wasn't until 2015 that Baffert's profile burst beyond the confines of horse racing and onto the international stage. It happened with the emergence of a genuine superstar in American Pharaoh, the first horse to win the American Triple Crown in 37 years.
The true quantum of achievement in securing Triple Crown success is measured not just by years but by those who were unable to overcome the test of greatness across three different tracks, three different distances and in three different locations across the US in a five week window. In the 20 years before American Pharaoh raced into immortality there were no less than six champion racehorses who won two of the three legs. Baffert had trained two of them, Real Quiet (1998) and War Emblem (2002), who stand out among the 20 wins he has enjoyed across different legs of Triple Crown. Considering this pedigree it surprised few that, if anyone was going to unravel horse racing's greatest puzzle, it was Baffert.
And as the American Pharaoh bandwagon moved around the United States throughout 2015, swelling in size with every win, the trainer was forever thankful for the privilege presented to him. When it all came to a close with the champion colt's retirement to stud at the end of the same season Baffert could be forgiven for being distracted. The best racehorse he may ever train was gone, leaving a physical and emotional vacuum almost impossible to fill. Few counted on Baffert's insatiable hunger to achieve. On his capable of unearthing raw talent again so soon. On his ability to climb to the peak again and again.
The testament of the trainer's unwavering abilities is that in the absence of American Pharaoh he has continued his assent to the top of the sport. In April this year he unveiled a grey colt to win a maiden race at Los Alamitos in California. The track hosts thoroughbred racing but is best known as a hub for Quarter Horse events. By November the same grey had been conditioned to overcome every challenge Baffert threw at him, winning the USD1 million Travers Stakes and the USD6 million Breeders' Cup Classic in the process.  His name is Arrogate and he is set to be crowned No.1 on the Longines World's Best Racehorse Rankings having overtaken perennial US champion California Chrome (part-owned by the China Horse Club).
And the next chapter of the Baffert story may already be starting to be mapped out ahead of 2017 with the lightly raced American Anthem, for whom the trainer seems so parochial. The colt is one of many currently in the shadow of stablemate Arrogate. But it wasn't that long ago that Arrogate was hidden in the long shadow of American Pharaoh.
"Next year is shaping as a very exciting one for our racing team in the United States and American Anthem is very clearly one of the reasons for this," said Michael Wallace, Racing and Bloodstock Manager for the China Horse Club.
"American Anthem is a big strong colt who really shouldn't be winning short course sprint races like he did last weekend, but his talent allowed him to do that. He should really come into his own next year once he is given the chance to get up over a bit more distance.
"If he can deliver on the ability we believe he has then I have no doubt Bob will be in a position to assess whether he is capable of building on his imposing record in Triple Crown races or not.
"These are the type of horses that Bob really excels with and he has a great record with our partner WinStar Farm having made stallions for them with the successes of Bodemeister (G1 Arkansas Derby, 2nd G1 Kentucky Derby, 2nd G1 Preakness Stakes), Paynter (G1 Haskell Invitational, 2nd G1 Belmont Stakes) and Fed Biz (G2 Indiana Derby). It is an exciting space to be in."
American Anthem is owned in partnership by the China Horse Club, WinStar Farm and SF Bloodstock, a triumvirate that also co-owns a series of other exciting young colts headed by graded stakes winners Good Samaritan and Theory.
American Anthem, Good Samaritan, Theory and G1 winner Yellow Agate spearhead the China Horse Club's racing interests in the US. It's breeding interests are headed by champion race mare Iotapa who is one of four mares the club has currently in foal to American Pharaoh. The American Pharaoh foals from Iotapa, Dundalk Dust, Flattermewithroses and Loudly are all due in 2017 and are a core component of a highly commercial breeding program based in Kentucky.
---
If you would like to learn more about the China Horse Club exclusive membership offer, please email your inquiry to horses@chinahorseclub.com