The China Horse Club (CHC) launched their feature event of 2014 and a Club Ambassador during a glittering Opening Ceremony at the launch of the Bazaar Charity Tour in Beijing, China earlier this week. The club's showpiece China Equine Cultural Festival (CECF) will be run in Shanghai in 2014 and will follow the invitation only Gala Dinner in the same city. Front and centre at both of these events will be the CHC's new Ambassador, Ms. Yolanda Huang who is a supermodel, business woman and charity advocate.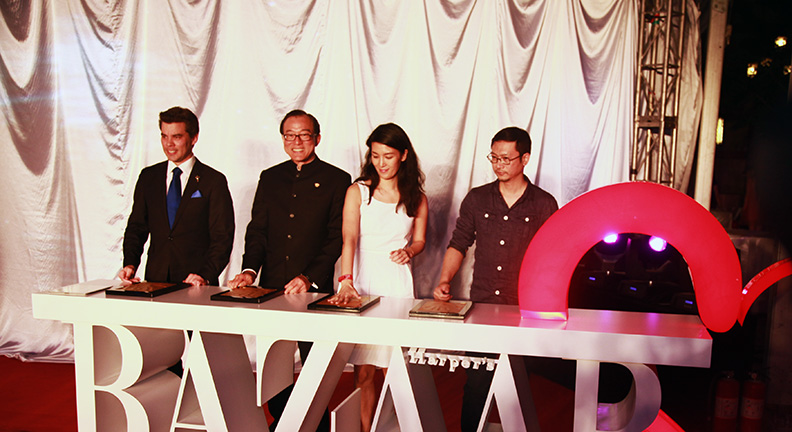 Celebrities, musicians and movie stars converged in Beijing for the launch of the Charity Tour and announcements that included a performance from renowned Taiwanese cellist Nana Ou-Yang.
"On 11th and 12th October Shanghai will light up with two back-to-back events to be hosted by the China Horse Club, it is certainly an exciting announcement as is the appointment of Yolanda as our Ambassador," said Mr Teo Ah Khing, Chairman of the CHC.
"CECF Shanghai will build on the success of last year's inaugural event which was so warmly received. Our CHC International Advisory Council (IAC) selected Shanghai as the city to host our most important event of the year and the prestige of this event will fit in well with all that Shanghai represents.
"This will certainly be a very exclusive experience and there will be a limited number thoroughbred and hospitality packages for members and prospective members. Once again this event will see us bring the world to China and we are most hopeful of strong support from local authorities and international racing industries."
The CECF Shanghai is set to be again China's most prestigious thoroughbred event building off an inaugural event in 2013 that was both the richest race meeting held in Mainland China last year and the first ever to be endorsed by the International Federation of Horseracing Authorities and from world racing.
The CECF Shanghai will follow on from the Bazaar Charity Tour, a partnership between Bazaar China and CHC, which will promote charity, the arts and elite thoroughbred events across 10 cities in China over four months and culminate in Shanghai.
"The Bazaar Charity Tour is a wonderful initiative and fits within the core objectives of our organization which focuses on charity and education as one of its four pillars," said Eden Harrington, General Manager of the CHC.
"To be able to couple our feature CECF event with the Bazaar Charity Tour and a CECF Gala Dinner in Shanghai can only enhance the appeal of our major events for our members and sponsors.
"Shanghai is a city with tremendous appeal to locals and international guests as well as to sponsors. Many of our sponsors from 2013 will again be supporting us this year, including our good friends Longines, and we thank each and every one of them for their support again."
Thoroughbred racing is fast becoming a passion for the CHC's Ambassador Yolanda who has experienced the fashion, lifestyle and glamour of Royal Ascot (London) and the Singapore International Airlines Cup (Singapore) over the last month.
"I am very excited to be the China Horse Club's Ambassador and to playing a role in both the promotion of the club's feature events both locally and internationally and in charity initiatives," said Yolanda Huang.
"The China Horse Club is China's premier lifestyle, business and thoroughbred racing club. I have experienced first-hand in London and Singapore how well they look after guests and people should be very excited by the CECF event in Shanghai this October. It will be an occasion not to be missed."
For more details on the China Horse Club please call +86 22 5835 6655 or email info@chinahorseclub.com.