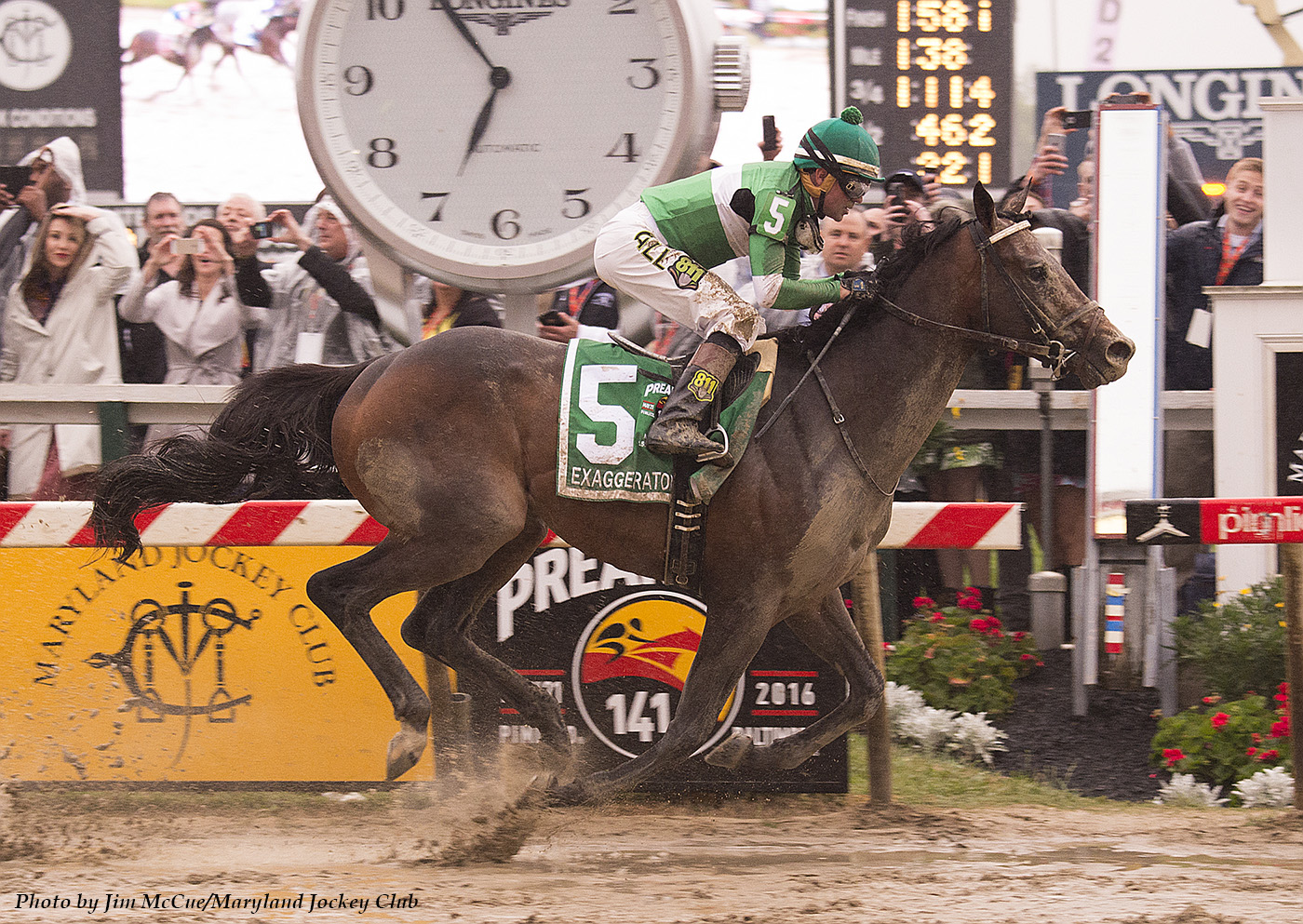 The time honoured USD1.5 million Belmont Stakes now sits squarely in the crosshairs of Exaggerator after the star colt confirmed his standing as one of the best racehorses in the United States with a dominant win in the G1 USD1.5 million Preakness Stakes over the weekend.
A crowd in excess of 134,000 cheered on as Exaggerator roared to the line in Maryland to defeat rival Nyquist who bested him in the G1 Kentucky Derby earlier this month. The duo stands as the dominant two colts of their generation with Exaggerator's win at Pimlico Racecourse early on Sunday morning (Beijing time) creating an engaging conversation as which of the boom stallion prospects may exit America's Triple Crown (Kentucky Derby – Preakness Stakes – Belmont Stakes) as the dominant force.
In 2015 the great American Pharaoh swept through each of the classics to become the first winner of the Triple Crown in 37 years. In doing so he wrote himself into the annals of sporting folklore, was pasted across the cover of Sports Illustrated, gained legendary status and was valued at more than USD100 million by Fortune Magazine.
There will be no Triple Crown winner in 2016 but that does not belittle the efforts of Exaggerator or his climbing value. The China Horse Club secured an interest in the colt's future breeding rights at the start of May. In his ensuing two starts Exaggerator has lifted his value considerably and with much of the season still to play out that value can climb further.
Upon his retirement, Exaggerator will join a growing international portfolio of stallions for the China Horse Club which includes former champion racehorse Australia (Ireland), Siyouni (France), Daredevil (USA) and the Australian based performers Dissident (2015 Australian Horse of the Year), Vancouver (2016 Royal Ascot prospect), Pride of Dubai, Press Statement, Wandjina, Deep Field, Sebring and Super One. G1 winners Extreme Choice (Australia) and Johannes Vermeer (Ireland) are also waiting in the wings.
"Exaggerator is a performer we were monitoring and securing an interest in his breeding rights alongside our partners, including Winstar Farm, is very rewarding," said Teo Ah Khing, Chairman of the China Horse Club.
"Exaggerator was a G1 winner with upside at the start of May. Three weeks on he is arguably the most exciting horse in America and his star may still be rising."
The USD1.5 million G1 Belmont Stakes is run in New York on 11th June.
---
If you would like to learn more about the China Horse Club exclusive membership offer, please email your inquiry to horses@chinahorseclub.com