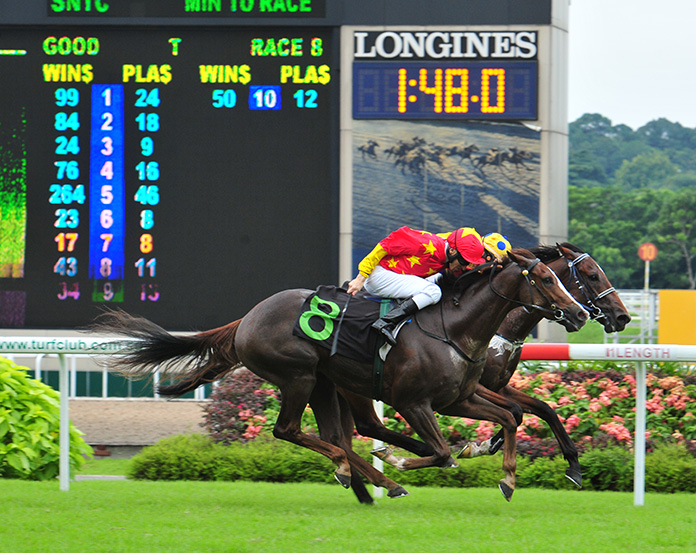 Iznate franked his credentials for next month's S$1.15 million Singapore Derby (2000m) despite being narrowly touched out on Sunday night in the S$100,000 Taurus 2008 Stakes (1800m) at Kranji racecourse.
In a year when the four-year-old feature appears to be without a dominant runner, Iznate is deserving on his chance to build on the China Horse Club's record of a debut Derby third with Tropaios in 2013.
"Iznate has found his form at the right time and I believe the increase in distance has been a factor in his form improving as well as having a clearer run at his last two starts," jockey Danny Bealey said who has been booked for Iznate in the Derby.
"I am sure he will be more suited to the Derby distance of 2000m in what isn't a vintage year. I feel he has a good chance to be right in the finish. "
Iznate was plagued by bad luck in his first three starts in Singapore running into a series of disappointing scenarios from bad luck, to blocked runs and to having a tear away leader turn a race on its head. However, since being ridden more quietly by regular partner Beasley he has begun to hint at the ability he displayed in France.
"Iznate is a horse with a good deal of ability and while it has been a little frustrating to date it is comforting for our members to see that he is starting to show the kind of talent we saw in him last year," said Eden Harrington, China Horse Club's General Manager.
"Michael Freedman and his team have done a wonderful job holding together Iznate's confidence after some challenging race results. Danny has also been integral to this little horse. He isn't big but he is a genuine trier and he is coming into form at the right time. Danny is getting on very well with him.
"A horse in form that is improving with every run is deserving of his chance in a million dollar race. Hopefully he can run well for our members and give them a great thrill. If he can do that it will be a great result."
The lightly raced four-year-old raced six times in France prior to being exported to Singapore. From those performances he won twice and placed a further four times and never shirked the task.
Iznate is continued to improve as stepped up in distance and the short head defeat on Sunday night indicated he is peaking at the right time.
"Danny had to go on him a little earlier than he wanted, he had to avoid being caught in a pocket and that has probably told in the result," Freedman said post-race.
"Iznate has come through the race well and he should make the field. The Derby is three weeks away and he should be at his peak and hopefully run right up to his best."