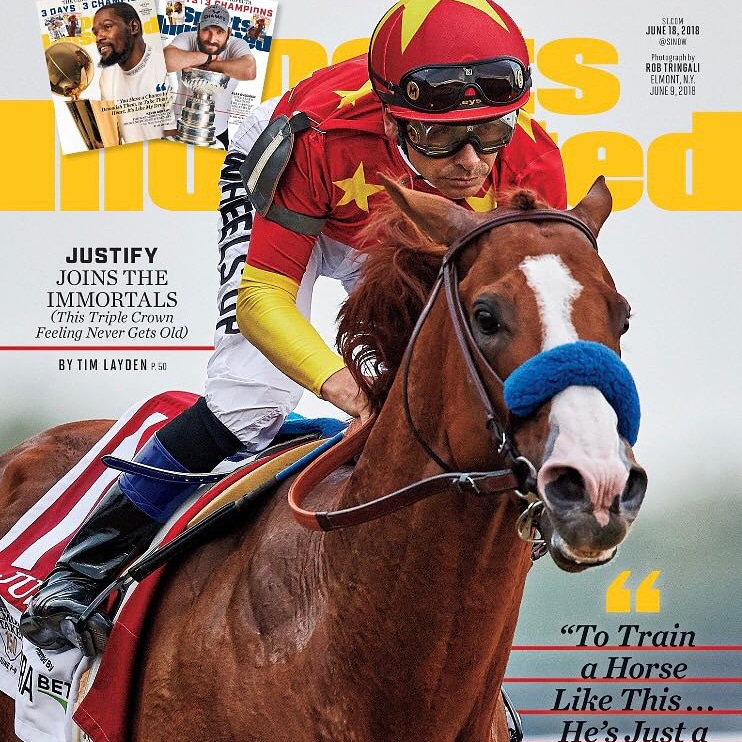 Magazine Cover by Sports Illustrated 
It was labelled as the 'Ultimate Trifecta', a trio of champions claiming honours as the elite of their respective sports across three successive days. From the Golden State Warriors' NBA dominance to the Washington Capitals claiming ice hockey's Stanley Cup, to Justify's Triple Crown heroics that was stamped with his imperious Belmont Stakes triumph. It was enough for Sports Illustrated to commemorate all three triumphs with individual, limited edition covers.
In the case of Justify, it is a rare honour for the sport of horse racing. Justify is only the fifth thoroughbred to grace the cover over the last 35 years joining American Pharoah (2015), Mine That Bird (2009), Smarty Jones (2004) and Sunny's Halo (1983). The significance cannot be understated. Sports Illustrated has been the bible of American sports for more than 60 years. Each week an estimated 23 million read it. Untold millions see its cover.
"It is a singular honour that is significant not only for Justify, for Bob Baffert, for Mike Smith and all of Justify's connections. It is rare recognition for thoroughbred racing in the most congested sporting marketplace in the world," said Eden Harrington, Vice President of China Horse Club.
"Sports Illustrated has designed three limited edition covers but on each one Justify is recognized. In 112 days he has gone from an unknown to the equine face of the sport of horse racing. We are blessed to share in this journey with him."
Justify became only the second undefeated Triple Crown winner in 144 years and is the most inexperienced by a measure that is unquantifiable. He continues to set new standards of excellence in a sport that intricately measures champions by time, by margins and by a litany of performance rating algorithms. He is simply heaven sent. A horse that embodies all we hope for as an industry and a deserved cover model.
---
If you would like to learn more about the China Horse Club exclusive membership offer, please email your inquiry to horses@chinahorseclub.com